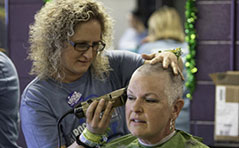 Six-year participant, Leah Bosley, gets her hair shorn by Misty Duncan on Saturday at Jimmy's Tavern in Pueblo West to raise money for the St. Baldrick's Foundation. [CHIEFTAIN PHOTO/ZACHARY ALLEN]

A sea of green clothing and shaved heads flooded the parking lot and barroom of Jimmy's Tavern on Saturday, as hundreds gathered for the annual St. Baldrick's fundraising event in its eighth year raising money for childhood cancer research at the bar in Pueblo West.
Coordinators of the event, which is known for its signature head shaving for charity, had set an original goal of raising $50,000 – just short of the $52,000 benchmark for the Pueblo West installation of the nationwide movement.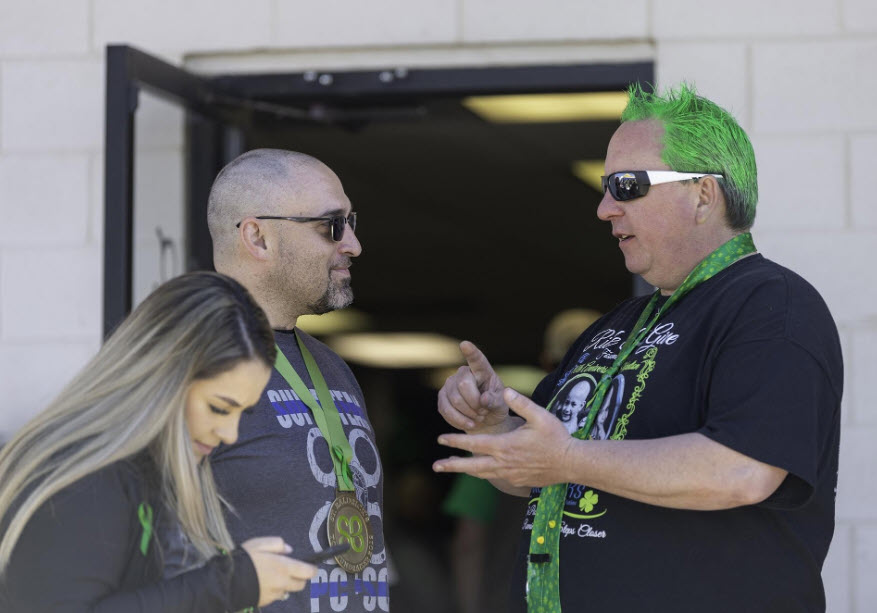 Event Organizer Grant Shay, right, speaks with first place fundraiser Brad Riccillo and volunteer Kendra Davis on Saturday at Jimmy's Tavern. [CHIEFTAIN PHOTO/ZACHARY ALLEN]Although they hadn't yet calculated a final fundraising figure on Saturday, this year's St. Baldrick's may have been the best in its short history.
"In the eight years it's been hosted at Jimmy's Tavern, we've raised $170,000," said event organizer Grant Shay. "We're hoping to raise another $60,000 this year.
"Back in the 1950s, if a child was diagnosed with cancer it was a death sentence. They were going to die. They were not going to make it.
"But today, 90 percent of the kids that have the most common types of cancer, live. And that's because of the research that's been done."
Billed as a family-friendly, St. Patrick's Day event, this year's St. Baldrick's fundraiser saw participants sipping on green beer – or green lemonade, for the kids – and listening to live music as the "shavees" awaited their turn beneath the barber's clippers for their signature St. Baldrick's cut.
Four of those shavees belonged to a family that had every member personally touched by childhood cancer.
When local resident Dan Kletke received word about a year-and-a-half ago that his 8-year-old grand-nephew Landon had been diagnosed with leukemia, he said he and his family wanted to do whatever they could to show their love and support.
So, Kletke and his two sons, 13-year-old Dietrich and 11-year-old Dustin, shaved their heads at last year's event.
This year, the youngest member of the Kletke family, 8-year-old Martha, who is just two days younger than her cousin Landon, decided she, too, would like to take part.
It was no easy feat for the little girl with shoulder-length hair, who is so particular that she doesn't' even like her mother to brush it.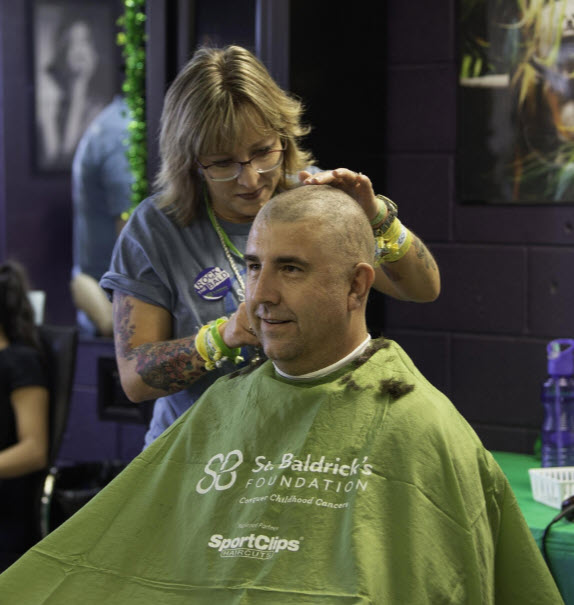 The Fountain Police Department sponsored Scott Gilbertsen, who had his head shaved by Jenn Andersen, on Saturday at Jimmy's Tavern in Pueblo West to raise money for the St. Baldrick's Foundation. [CHIEFTAIN PHOTO/ZACHARY ALLEN]"We're very, very proud of our kids. This is nothing we asked them to do," said Martha's mom, Tricia Kletke.
"I just said I was going to do it and invited them to join me if they'd like, and they decided on their own," Dan Kletke agreed.
"There was no question ever asked of,′ Martha, would you like to?"′ Tricia Kletke said.
"It was, 'Hey dad, I want to do it.'"
"She's been raising money all on her own. She decided this is something that's really important and she talked about Landon. She said, 'Landon is my cousin and he is two days older than me.'
"And I remember her coming to tears more than once saying, 'I want to do something for Landon. What can I do? Because I don't want him to be sick.'"
"So, this is our way to support him."

Written by: Zach Hillstrom
The Pueblo Chieftain
Feb. 16, 2019
This email address is being protected from spambots. You need JavaScript enabled to view it.
Twitter: @ZachHillstrom
Read more: Baldrick's is beautiful: Event raises funds and hope for cancer research