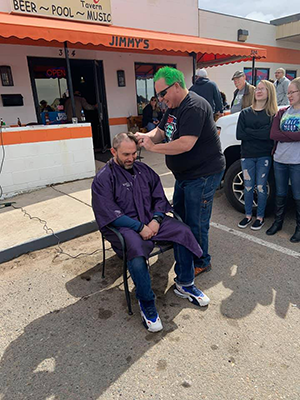 Grant Shay, Event Coordinator for the Annual St. Baldrick's event in Pueblo West, shaves the head of Superteam PCSO captain Brad Riccillo at Jimmy's TavernSo, the 7th Annual St. Baldrick's Head-Shaving Event wasn't exactly as we had originally planned. The circumstances were different but the reason remained exactly the same.
Friends and supporters of SuperTeam PCSO gathered at Jimmy's Tavern in Pueblo West on Sunday afternoon, March 15, to watch the Heroes carry through on their promise to shave their heads after months of tireless fundraising. The monies gathered were given to the St. Baldrick's Foundation to help fund childhood cancer research. We all had a good time and none of us will miss our hair, that's for sure.
Thanks to each person who gave money, bought a candy bar, grabbed a t-shirt or attended a fundraiser. Without your generosity this day would not have been possible and neither would our successes.
Most of all, thanks to the children and families who are battling this disease. You are always in my prayers and on my mind. Each of you is the reason I have decided to do this every year. Your sacrifices drive me to continue.
To my sqaud.....Grant Ash Jeff Reynolds Jeremy Wayne Joshua Kirchner Kent Kirchner and all the others - thank you.
#HelpHandcuffChildhoodCancer
#SuperTeamPCSO
#BraveTheShave
#StBaldricks
#StayTunedForTheNextFundraiser
www.superteampcso.org
---