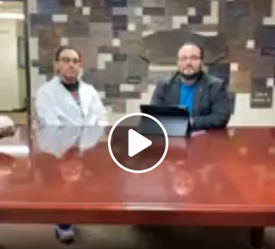 On Monday, Feb. 24, Brad Riccillo, Captain of Superteam PCSO was invited to the Latino Chamber of Commerce by Mr. Steven Trujillo as an honored guest on the program "Live at Five". This live broadcast features a member of the community who is hosting an event or doing something special in the community for others.
Mr. Trujillo believes SuperTeam PCSO and the St. Baldrick's Foundation fits this description. In this brief exchange, we discussed the funsraising efforts of the SuperTeam and the head shaving event on March 14th at Auta Salon and Jimmy's Tavern which supports childhood cancer research.
Check out the video link on the right and visit their page for cool happenings in and around town and see what the Chamber is up to. Thanks to Steven and the Chamber for their support and this cool opportunity!
Donate to the cause here:
https://www.stbaldricks.org/participants/mypage/1038575/2020
#HelpHandcuffChildhoodCancer
#SuperTeamPCSO
#StBaldricks
#LatinoChamberOfCommerce
---