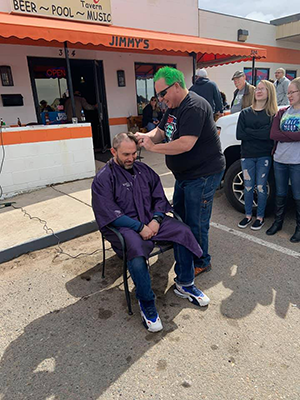 Grant Shay, Event Coordinator for the Annual St. Baldrick's event in Pueblo West, shaves the head of Superteam PCSO captain Brad Riccillo at Jimmy's Tavern in last year's virtual head-shaving eventWhat? The 10th Annual Southern Colorado St. Baldrick's & Family Fun Event At Jimmy's Tavern on March 20, 2021, with SuperTeam PCSO. Be a hero for kids with cancer! Join this St. Baldrick's event, and whether you decide to shave your head, or donate, we hope you'll be a part of the excitement.
Can you believe it's our 8th year already!?! To date, the SuperTeam has raised over $70,000 for the St. Baldrick's Foundation in support if childhood cancer research! Thanks to the generosity of the community and donations from small businesses in the Southern Colorado area.
The SuperTeam is a group of Deputies from the Sheriff's Office and civilians in the community who raise funds and get their heads shaved to support childhood cancer research. We are a 501(C)3 and all profits are given to the St. Baldrick's Foundation. You donate and we shave our heads!
Check out our official SuperTeam merchandise on sale now at www.superteampcso.org
Please feel free to call or text if you have any questions that I can answer for you.
Thank you for everything you do to help this awesome organization!
#HelpHandcuffChildhoodCancer
#SuperTeamPCSO
---