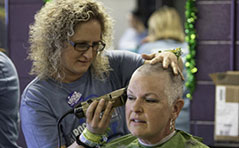 A sea of green clothing and shaved heads flooded the parking lot and barroom of Jimmy's Tavern on Saturday, as hundreds gathered for the annual St. Baldrick's fundraising event in its eighth year raising money for childhood cancer research at the bar in Pueblo West.
Coordinators of the event, which is known for its signature head shaving for charity, had set an original goal of raising $50,000 – just short of the $52,000 benchmark for the Pueblo West installation of the nationwide movement.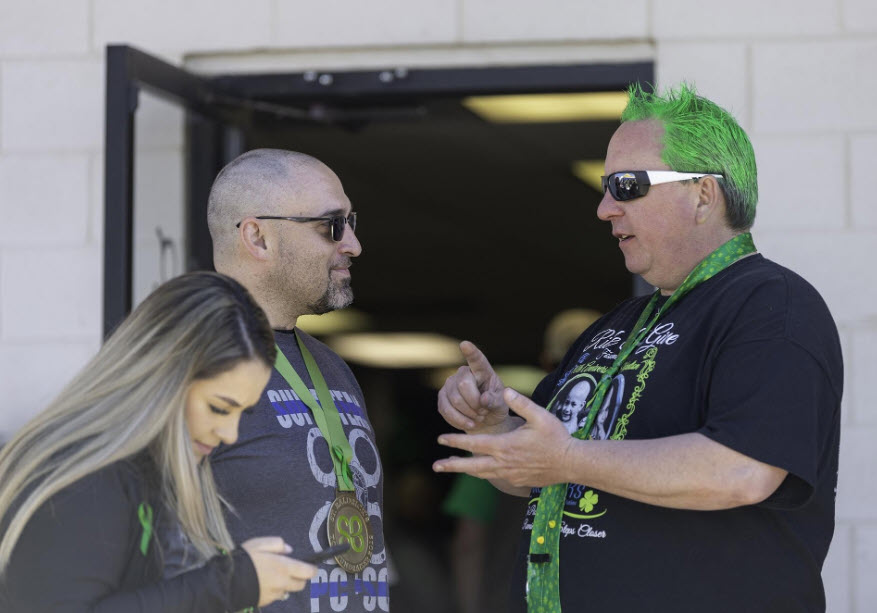 Although they hadn't yet calculated a final fundraising figure on Saturday, this year's St. Baldrick's may have been the best in its short history.
"In the eight years it's been hosted at Jimmy's Tavern, we've raised $170,000," said event organizer Grant Shay. "We're hoping to raise another $60,000 this year.
"Back in the 1950s, if a child was diagnosed with cancer it was a death sentence. They were going to die. They were not going to make it.
"But today, 90 percent of the kids that have the most common types of cancer, live. And that's because of the research that's been done."
Billed as a family-friendly, St. Patrick's Day event, this year's St. Baldrick's fundraiser saw participants sipping on green beer – or green lemonade, for the kids – and listening to live music as the "shavees" awaited their turn beneath the barber's clippers for their signature St. Baldrick's cut.
Four of those shavees belonged to a family that had every member personally touched by childhood cancer.
When local resident Dan Kletke received word about a year-and-a-half ago that his 8-year-old grand-nephew Landon had been diagnosed with leukemia, he said he and his family wanted to do whatever they could to show their love and support.
So, Kletke and his two sons, 13-year-old Dietrich and 11-year-old Dustin, shaved their heads at last year's event.
This year, the youngest member of the Kletke family, 8-year-old Martha, who is just two days younger than her cousin Landon, decided she, too, would like to take part.
It was no easy feat for the little girl with shoulder-length hair, who is so particular that she doesn't' even like her mother to brush it.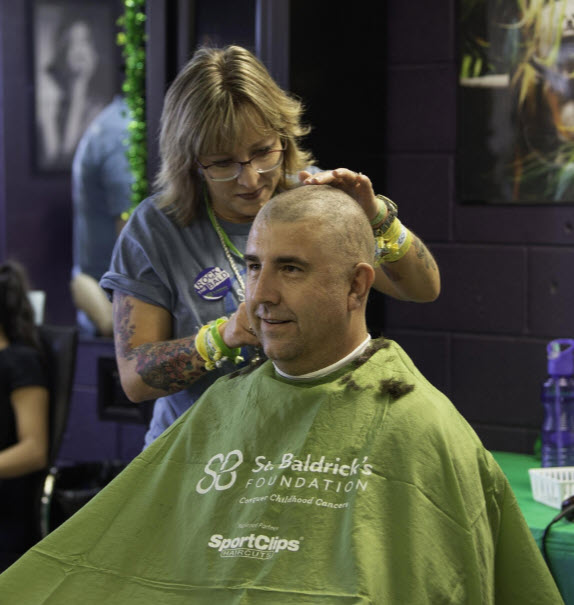 "We're very, very proud of our kids. This is nothing we asked them to do," said Martha's mom, Tricia Kletke.
"I just said I was going to do it and invited them to join me if they'd like, and they decided on their own," Dan Kletke agreed.
"There was no question ever asked of,′ Martha, would you like to?"′ Tricia Kletke said.
"It was, 'Hey dad, I want to do it.'"
"She's been raising money all on her own. She decided this is something that's really important and she talked about Landon. She said, 'Landon is my cousin and he is two days older than me.'
"And I remember her coming to tears more than once saying, 'I want to do something for Landon. What can I do? Because I don't want him to be sick.'"
"So, this is our way to support him."

Written by: Zach Hillstrom
The Pueblo Chieftain
Feb. 16, 2019
This email address is being protected from spambots. You need JavaScript enabled to view it.
Twitter: @ZachHillstrom
Read more: Baldrick's is beautiful: Event raises funds and hope for cancer research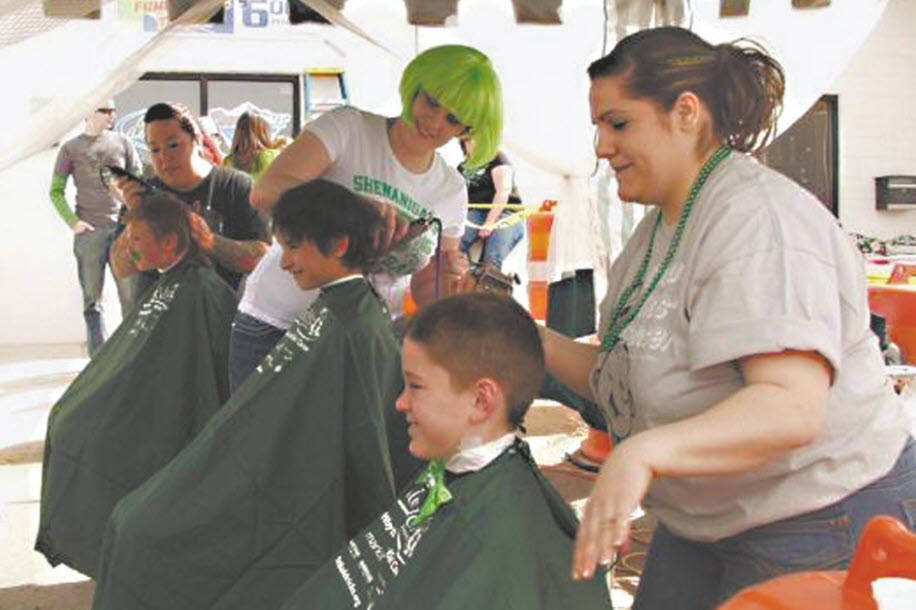 Pueblo West residents are set to unite for a compassionate cause as the St. Baldrick's celebration raises funds for childhood cancer research Saturday at Jimmy's Tavern, 324 S. McCulloch.
The event, designed to raise funds for the non-profit St. Baldrick's Foundation which is working to fund research and treatments to cure childhood cancer, will run from 11 a.m. to 3 p.m. Saturday. The eighth annual event is expected to raise more than $50,000, to add to the well over $150,000 raised for research in the first seven years of the event.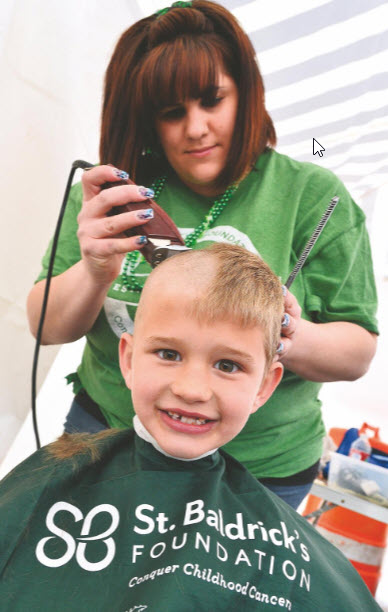 "Each year we honor kids who are battling cancer and unfortunately one lost his battle to cancer three years ago," said Grant Shay, event organizer. "I get choked up every time I think about it and that's why we do what this - we can't have that happen."
During the entire four-hour event, many caring souls who have raised money will submit to a head sheering and proudly show off their bald pates in support of children with cancer. The event also will feature live music by several local bands who are donating their time to play for the event.
"The Pueblo Young Marines will be cooking up hamburgers and hot dogs for sale so we can raise even more money. We will have green lemonade and green beer," Shay said.
The Pueblo County Sheriff's office will sponsor an Identi-kid booth, plus there will be face painting, a silent auction and raffles. One of the highlights will be Shay submitting to a new hairdo.
"We have a couple of young men who battled cancer, survived and won so I will spike up my hair and paint it with green glitter and they will shave a silly design in my hair," Shay said.
Last year the event raised $52,000 and the top fundraising team - the Pueblo County Sheriff's office - raised $17,000, Shay said. The event also includes the presentation of pins to thank donors for they years of service.
For details, log onto the Facebook group https://www.facebook.com/groups/pueblowesthatescancer/.
Written by: Tracy Harmon
The Pueblo Chieftain
Feb. 15, 2019
This email address is being protected from spambots. You need JavaScript enabled to view it.
Twitter: @tracywumps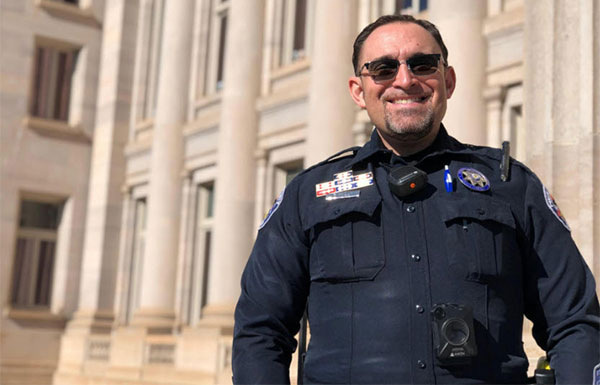 Pueblo County sheriff's Deputy Brad Riccillo has been growing his usually shaved hair out since Oct. 10.
There's no super long locks, but it's coming around.
The team captain of the sheriff's office "Super Team", St. Baldrick's Foundation is growing his hair out only to have it shaved again on March 16.
That's when the foundation is holding its annual St. Baldrick's event at Jimmy's Tavern, 324 S. McCulloch Blvd., in Pueblo West. The event is scheduled from 11 a.m. to 3 p.m.
The event raises money for childhood cancer research.
"I keep my head shaved from the day of the event all the way until right around October. This is the total effect. I am going to have a full head of hair leading up to the day I get it shaved off," Riccillo said.
"I guess you can say, I am going to brave the shave," he added with a laugh.
For the past five years Riccillo has put together a team of deputies for the event.
"We are going to continue to raise funds up until March 16. Then we will all go to Jimmy's Tavern and we'll all get our heads shaved. The reason we shave our heads is to show solidarity with children who have to shave their heads because they are affected with cancer and they really don't have a choice," he said.
Riccillo said the reason he got involved with the foundation is because cancer affected three people he knows very well.
He said his grandmother and grandfather died from cancer, and a fellow deputy suffered through the disease as well.
"About five years ago one of the deputies I work with was diagnosed with cancer. It was a very, very hard situation and I saw the struggles that he went through and I saw the struggles that his family went through," Riccillo recalled.
"We both had children who were about the same age and just to see how terrible it was for him, I couldn't imagine how awful it would be for a child to have to deal with those types of things."
Riccillo said he believes the Super Team can make a positive change on a local level.
This year the group has a goal to raise more than $28,000.
"Last year it was $9,999 and we were able to raise more than $17,000," Riccillo said.
On Feb. 9, the sheriff's office will hold its first annual cocktail mixer in support of the St. Baldrick's Foundation.
It is scheduled to be held at The Clink, 140 Central Main St., Suite 222, at 6 p.m. There also will be a silent auction.
Tickets in advance are $50 per individual and $75 per couple. Tickets at the door are $55 per individual and $80 per couple.
"All the funds raised from ticket sales and the cash bar are going directly toward the St. Baldrick's Foundation on behalf of Super Team PCSO," Riccillo said.
"I am really excited about this event. It's going to be the first of its kind."
For more information, call 281-0173. Visit www.stbaldrick's.org and search "Brad Riccillo" in the upper right corner to give a donation.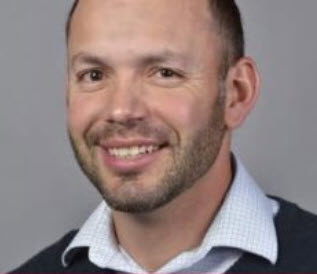 Written by: Anthony Meastas
The Pueblo Chieftain
Feb. 2, 2019
This email address is being protected from spambots. You need JavaScript enabled to view it.
Twitter: @mestas3517